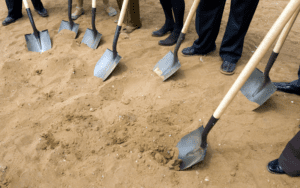 A new Bergen County career and technical school will open to students in 2025 with the help of a state grant.
The county on Tuesday held the official groundbreaking ceremony for the school, which will be built behind the Bergen County Technical Schools Paramus campus on Pascack Road and eventually will be connected to share a gymnasium.
The "career innovation" high school will consist of programs that focus on future careers that have a high wage and high demand, Bergen County Technical School District Superintendent Howard Lerner said.
The school will welcome its first ninth grade class in September 2025 and will eventually hold about 260 students, Lerner said. It will feature career pathway programs in dental assistance, design and fabrication, supply chain management and logistics.
"This is a once-in-a-lifetime opportunity," Lerner said about the state's funding 75% of the cost to build the school.
The Securing Our Children's Future grant will provide about $26 million toward the school and the county will be responsible for the rest, which adds up to about $8.6 million.
"This new school will be a milestone project for our Technical School District and the county of Bergen as a whole," County Executive James Tedesco said. "As we look to the future of what education should be, it is critical to anticipate the needs not just in education, but in the workforce. That is what career and technical education does."
Across the five high schools in the Bergen County system, there are currently 35 career technical programs offered. Lerner said that when deciding on the three new programs, officials looked at the economy and the future of jobs and surveyed eighth graders across the county to gauge interest levels.
Along with the hands-on training programs, career-specific labs and academic instruction, the programs offer partnerships with local businesses and Bergen Community College, Lerner said. The partnerships allow direct internships, mentoring and site visits.
The curriculum will provide students with skills to directly enter the workforce or pursue additional educational opportunities, be it through a trade apprenticeship, a two-year school like Bergen Community College or a four-year university, Tedesco said.
"This new career technical education school is about supporting alternative paths and building a more inclusive education system that has something for every single student, all while helping ensure Bergen County remains competitive in the 21st-century global economy," Tedesco said.
Last October, state lawmakers also advanced bills that promote and create job opportunities for high school and college students in manufacturing and skill-based jobs to address workforce shortages in New Jersey.
The Manufacturing in Higher Education Act calls for state entities to work with the business community to design manufacturing career pathways that will be implemented through county colleges and vocational and technical schools.
New Jersey had an average of 244,000 manufacturing employees in 2020, with an average annual compensation of $97,281 in 2019, according to the National Association of Manufacturers, a lobbying group that advocates for the industry.
This story originally appeared April 18, 2023 on NorthJersey.com.