Hudson County Schools of Technology honored RSC Architects as its 2020 Business Partner of the Year.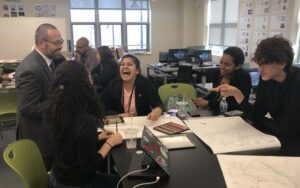 The award is given annually to a county vocational technical school business partner for outstanding contributions to career and technical education. Business partners play a variety of roles, including serving on county vocational technical school program advisory boards, offering opportunities for students to gain valuable work experience, donating equipment, or serving as mentors and role models for students.
Hudson County has had a working relationship with RSC that dates back to the early 1970s, when the district commissioned RSC to design its original campuses within North Bergen and Jersey City.
Throughout the years, Hackensack-based RSC has designed numerous renovation, alteration, and expansion plans for both vocational high school campuses, including new classrooms, various art and performance studios, boiler replacements, ADA compliance alternations, door and window replacements, fire and security system installations, and roof replacements.
Most recently, RSC and the district successfully opened the new Frank J. Gargiulo Campus within Secaucus. The district continues to work with RSC on a variety of new projects throughout the county, developing facilities for the continued growth the district's programs.
Superintendent Amy Lin-Rodriguez said the district has forged a strong relationship with RSC that centers around a mutual respect and a solid understanding of each other's goals, priorities, and processes.
"Thanks to the services that RSC has provided to the district over the past 40 years, the firm has developed a strong understanding of the district's approach to education and their curriculum, which has allowed RSC to counsel and guide anywhere from 12 to 24 district students each year through the Architecture, Construction, and Engineering (ACE) mentorship program introducing our student population to careers in architecture, construction management, and engineering," Lin-Rodriguez said.
"The program is driven by professionals who volunteer their time and resources to introduce students to the multitudes of professions within the design and construction fields," Lin-Rodriguez said.
RSC established an affiliate program with HCST in 2017. The firm has engaged with the district's architecture and engineering academy within its high-tech program at the Frank J. Gargiulo Campus.
Through weekly meetings after school, students meet with mentors from RSC Architects and their partners. The students take part in presentations from architects, interior designers, and engineers, and they learn about specific activities and tasks in planning, designing, and constructing buildings.
"Over the course of about six months, students develop the design for a project and prepare drawings and images that are presented to other ACE affiliates within New Jersey," Lin-Rodriguez said. "The majority of the high school senior participants that apply to schools with architecture or engineering majors receive college scholarships."