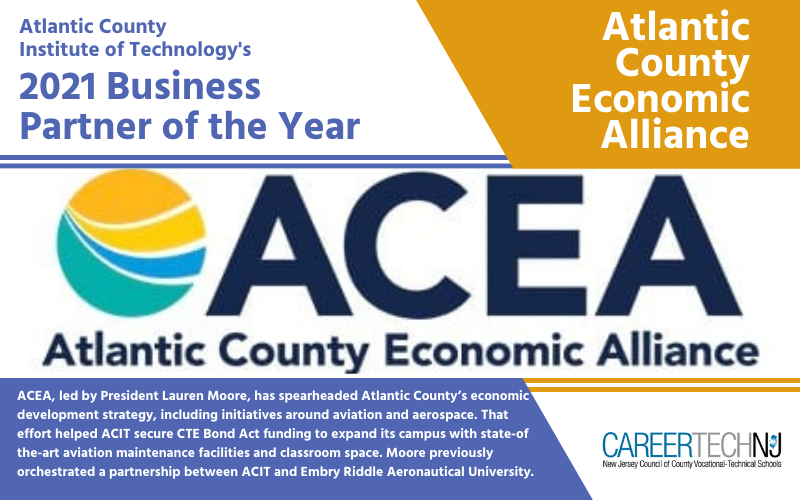 Atlantic County Institute of Technology's Business Partner of the Year is the Atlantic County Economic Alliance (ACEA) and its president, Lauren Moore. Moore has involved businesses and educational institutions in a very intentional strategy to build a stronger community in Atlantic County. ACIT appreciates Moore's recognition that a significant component of that strategy is to ensure the workforce acquires innovative and unique skills to contribute to the local economy.
ACIT has worked closely with ACEA for the last five years, with Moore orchestrating a partnership between ACIT and Embry Riddle Aeronautical University (ERAU), a global leader in aviation and aerospace education. ERAU has placed an adjunct instructor at ACIT in a burgeoning high school aviation studies program, which will lead to additional opportunities through a concurrent credits program in aviation studies and a new aviation maintenance program.
New programming is supported by funding from the Securing Our Children's Future Bond Act-County Vocational School District, Career and Technical Education Grant. ACIT was awarded $53 million in this CTE Bond Act funding to expand its campus with state-of-the art aviation maintenance facilities and classroom space for students in high school, adult evening school and the community.
Moore's leadership of Atlantic County's comprehensive economic development strategy, including initiatives around aviation and aerospace, contributed to ACIT's successful grant application. Moore currently serves as a Coalition Member of Southern New Jersey's Smart Aviation Growth Cluster, which further contributes to his knowledge of how the local workforce can meet industry demands through smart technologies and training associated with aviation maintenance, UAS and eVTOL piloting, airspace operations and manufacturing, all of which align with current and proposed coursework taught through ACIT's post-secondary partnership with ERAU.
ACIT's expansion plans also include a welding and advanced fabrication program of study, which will enhance ACEA's community resources and support the aviation community's commitment to advancements in the protean field of aviation science.